CTAE Classes & Career Technical Student Organizations


The purpose of CTAE is to provide an opportunity for all students to gain experience and knowledge, while developing relevant skills in a career-related area that interests them.



CTAE teachers spend their days teaching a variety of courses in their perspective Pathways and facilitating the CTSO's that are connected to those Pathways. If you need to contact any teachers in the CTAE department, click on the link below to be redirected to the directory for the CTAE teachers where you can locate email addresses and websites for communication:
Powered by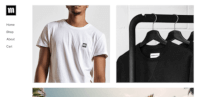 Create your own unique website with customizable templates.